Virtual Event
Join Geraci Media for Evolve: The State of the Market, this September 2020.
A fast-paced, industry meet-up revolving around education and face-to-face networking…
ALL ONLINE.
The current state of the world has led to an overwhelming amount of virtual conferences – including our own full, virtual conference this past May 2020. However, this time, we're hosting a virtual "meet up" filled solely with networking and education!

We polled various leaders, companies, and clients within the Private Lending industry, put our heads together, and pivoted to provide you with what you want and need: top-tier, face-to-face, CONNECTIONS through networking tools, and CURRENT information, education, and advice on how to run and grow your business in a time of uncertainty. Our goal is to maximize your time, new industry connections, and access to new information in a simple, familiar format.

This virtual event will facilitate connections and relationships through Brella, our powerful networking software, while also addressing The State of the Market in regard to the following topics via Livestream:

SFR - Rental Loans & Capital Market Expectations
SFR - Fix & Flip
Commercial Real Estate
...and more!
Email Alicia Carter, Event Director, at
A.Carter@Geracillp.com
for more info!
*Please note that there will be NO Exhibitor Hall or Booth Sponsorships available for this online event, but there are A La Carte options available*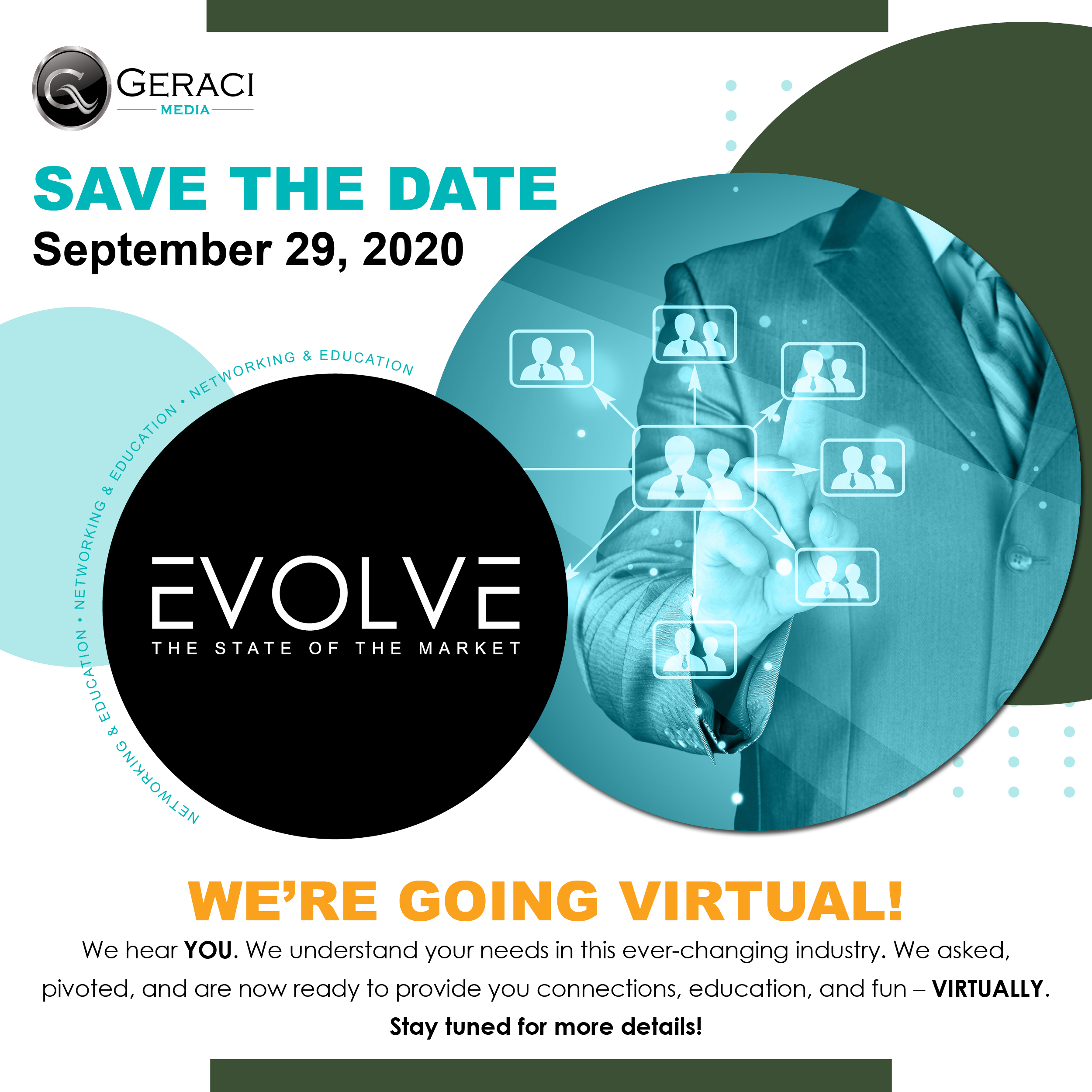 September 28, 2020 (all times are in PDT)
| | |
| --- | --- |
| 3:00pm - 4:00pm | Pre-Event Mixer - Hosted by Toorak Capital Partners (open to all attendees) |
September 29, 2020 (all times are in PDT)
8:00am - 8:45am
Education and Espresso: Round Table Discussion - Hosted by The Mortgage Office (Invitation Only - Not open to all attendees)
9:00am - 9:20am
Welcome to EVOLVE - Co-hosted with Temple View Capital
9:20am - 10:20am
CRE – What Lending Looks Like in Times of Uncertainty
Commercial Real Estate continues to be an asset class filled with uncertainties. Initially state lock down orders decimated many CRE sectors. Unlike residential assets, government financial assistance mostly overlooked commercial assets, leading to higher default rates and forbearances with certain assets. Our panel of active commercial lenders will provide guidance on how they are able to continue to write CRE loans despite strong headwinds.
10:20am - 11:00am
Brella Networking Break
Schedule private 1-1 or group video meetings with other attendees via Brella
11:00am - 12:00pm
SFR- Rental Loans & Capital Market Expectations
Opportunities for residential lenders have returned. Many say business is back to usual. Lets hear from industry leaders about the state of the market for residential lenders. This discussion will explore the current state of the market including trends in lending guidelines, capital markets requirements, and unique challenges presented by this altered marketplace.
12:00pm - 12:30pm
Break for lunch (on your own - you may continue to network)
12:30pm - 1:00pm
Brella Networking Break
Schedule private 1-1 or group video meetings with other attendees via Brella
1:00pm - 2:00pm
Residential Bridge Market Outlook
Now that the shock of government lockdowns is subsiding, the new normal of short term financing is emerging. This asset class fared better than anticipated with low default rates, historically low interest rates keeping asset values steady, and a hyper competitive home purchasing marketplace. Our expert panelists will provide their unique insight into how the marketplace has shifted since Pre-COVID and what they expect for the remainder of 2020.
2:00pm - 2:30pm
Brella Networking Break
Schedule private 1-1 or group video meetings with other attendees via Brella
2:30pm - 3:30pm
Closing Reception – Sponsored by Spiegel Accountancy Corp
We're sorry, but all tickets sales have ended because the event is expired.