Up & Coming Trends in Private Lending
Innovate 2021 is SOLD OUT!
Innovate 2021 will take place in person from April 15-16, 2021, at Balboa Bay Resort in Newport Beach, CA. This industry-leading event will connect lenders, brokers, investors, and service providers to network, grow your business, and dive into the up & coming trends in the private lending space. You will be equipped with firsthand knowledge from industry executives and professionals about relevant industry news and updates. Attendees will also have many opportunities to foster new connections using our smartphone app, Brella, to set meetings as well as participate in guided networking breaks.

With ample opportunities to network, learn, and discover new opportunities, Innovate has become a staple event for many in the private lending industry. We can't wait to see you in April!


Event Safety
We are thrilled to announce that Geraci Media will move forward with Innovate 2021 in person
. Our top priority is planning the Innovate you know and love while carefully considering the health and safety of all Innovate participants and Balboa Bay Resort staff. Rest assured we will follow all social distancing and PPE guidelines to ensure your peace of mind and a successful event.
Email
R.Keys@Geracillp.com
with any questions.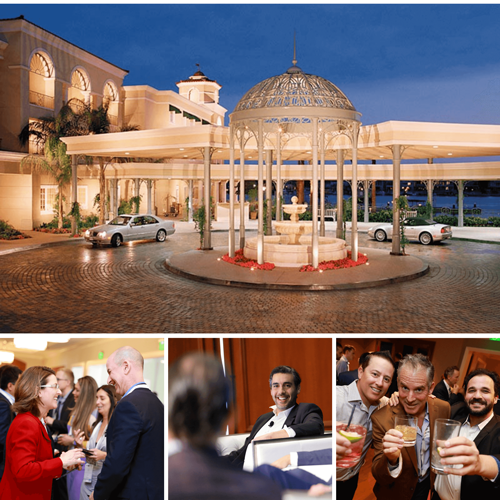 April 15, 2021 (all times are in PDT)
| | |
| --- | --- |
| 3:00pm - 5:00pm | Sponsor set up |
| 7:00pm - 9:00pm | Cocktail Reception – Indoor & Outdoor venue Hosted by Center Street Lending at the Bayfront Lawn |
April 16, 2021 (all times are in PDT)
8:00am - 6:00pm
Registration Opens (Sanitizer will be provided)
8:00am - 8:45am
Breakfast – Individually Served/ Packaged Meals with Touchless Coffee
8:45am - 9:20am
Welcome to Innovate: Keynote Session with Jeb Mason
9:20am - 10:20am
Navigating Commercial Real Estate In Unprecedented Uncertainty
Skilled CRE bridge lenders are adept at figuring out how to navigate transitionary real estate. From major conversion projects to financial bridges between anchor tenants, they have been able to figure out how to understand the story of a successful transition. The pandemic has forced even the best operators to re-evaluate their practices. Unlike residential real estate, commercial real estate remains an increasingly unpredictable asset class. Hear from those who continue to thrive about how they have managed to beat the odds in CRE.
10:20am - 10:45am
Brella Networking Break
Schedule private 1-1 or group meetings with other attendees via Brella
10:45am - 11:30am
On Offense or Defense? Managing Loan Defaults in 2021
2020 brought a new series of challenges for loan defaults. First with a rush of forbearance requests. Then an unprecedented number of workouts to try to avoid foreclosure. Then a litany of state and federal measures aimed at disrupting the foreclosure process. Lenders have often had to become special servicers just as much as they are loan originators. Our panel will provide guidance on how to skillfully navigate borrower defaults and the lessons they have learned along the way. Understand how the best make sure they get their money back.
11:30am - 11:45am
Brella Networking Break
Schedule private 1-1 or group meetings with other attendees via Brella
11:45am - 12:30pm
Opportunities in 2021 from the Brokers' POV
Mortgage brokers have always been at the forefront of opportunity. They are interfacing in real time with a borrower base who is novel, creative and indicating where the future of mortgage lending is headed. From build-to-rent planned development units, to the re-imagined office. Hear from our all-star panel about where they see the greatest opportunities for growth in 2021 and beyond.
12:30pm - 1:30pm
Lunch – Hosted by The Mortgage Office – Individually Served/ Packaged Meals
1:30pm - 2:30pm
The Search for Reliable Capital in 2021
2020 provides the greatest market dislocation of capital since the Great Recession. Many Lenders were left at the altar by their capital partners when the pandemic struck. Many of those capital partners have yet to re-enter and appear to have exited the space altogether. Where can lenders go to for reliable capital sources and who are the new players in this game?
2:30pm - 3:30pm
Construction Lending during the Pandemic and Post-Pandemic World
Construction lending has always been about optimism towards the future. In order to be optimistic, lenders must have a level of certainty about what the future brings. 2020 was a year which uncertainty is an understatement. However, those that continue to make big construction loans do so with big opportunities available to them. Hear from some of the best in the industry to understand how they can make large construction loans despite a rapidly changing situation.
3:30pm - 4:00pm
Brella Networking Break
Schedule private 1-1 or group meetings with other attendees via Brella
4:00pm – 5:00pm
The Bulletproof Asset Class? An open discussion on the SFR Market for 2021
SFR has always been favored in the private lending industry. But why has it remained such a strong asset class, even through the COVID19 pandemic? Will it stay that way for 2021? Listen to industry experts and hear their perspectives on market trends and what the future holds for Fix & Flip, DSCR, and non-QM loans.
5:00pm – 6:00pm
Cocktail Hour – Hosted Outside on Coconut Grove Patio by Center Street Lending